25 Best Summer Perfumes 2021
6 min read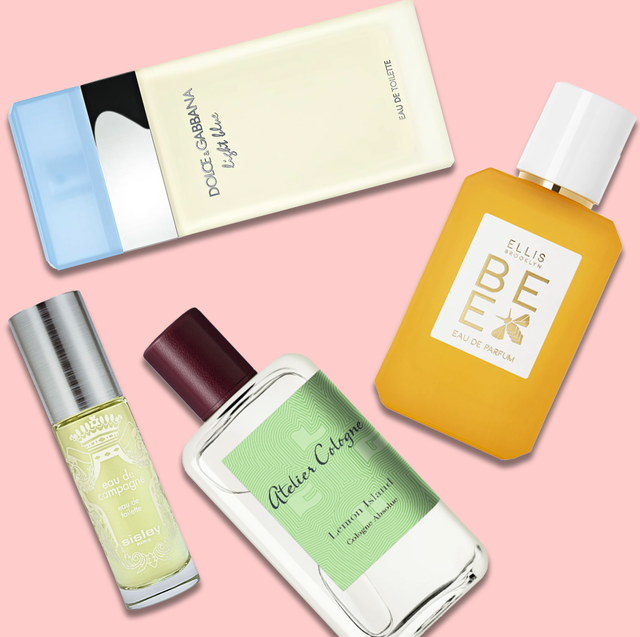 courtesy
If you're packing up for a day on the beach, going to a cookout or grabbing a drink on a warm summer night, the perfect summer fragrance is inspired by the season itself. There are classic summer fragrances with notes like vanilla, coconut and lemon, and then there are more unique summer fragrances that blend together notes like salt, bergamot and florals.
Below, find the best perfumes to wear at the beach or just in the heat if summer. These perfumes are playful, sexy and beachy — and some are downright unexpected (which is what makes wearing perfume fun). Complement the smell of your favorite SPF with a good summer perfume, which is just as essential as a beach towel or waterproof mascara. Whether you're looking for a classic perfume or a unique fragrance, you'll find the perfect one for you.
Advertisement – Continue Reading Below
1
Best Overall Summer Perfume
Light Blue Eau de Toilette
DOLCE & GABBANA
sephora.com
$29.00
This classic summery scent never goes out of style. Evoke memories of boating on clear blue waters and sipping spritzes with this scent that blends Sicilian lemon and jasmine.
2
Best Value Summer Perfume
Island Vanilla Hair & Body Mist
Mist this sultry scent all over your body (and even in your tresses) to transport yourself to island time. Tahitian vanilla, honey, jasmine and tea make this mist downright hypnotic.
3
Best Overall Beach Perfume
Replica Beach Walk Eau de Toilette Fragrance
MAISON MARGIELA
nordstrom.com
$72.00
Ocean air and sun-drenched days get bottled in this beachy fragrance, which is made to smell like sun-kissed skin. Lemon, coconut milk and amber come together to create a beachy, salty scent.
4
Best Sweet Summer Perfume
BEE Eau de Parfum
Ellis Brooklyn
sephora.com
$30.00
This sweet fragrance complements sticky, late-summer heat. Dripping with notes of honey, rum and vanilla, this mist smells good enough to eat. 
5
Best Lemony Summer Perfume
Lemon Island Cologne Absolue
Atelier Cologne
nordstrom.com
$235.00
Bursting with bright citrus from Rodrigues, this lemony scent will transport you to the secluded island. Top notes of salt and jasmine add elements of the seaside. 
6
Best Warm Summer Perfume
SOL Cheirosa '62 Eau de Parfum
Sol de Janeiro
sephora.com
$26.00
Sol de Janeiro's signature fragrance will make you smell like a pistachio caramel sundae — in the best possible way. Like Rio's beating sun in a bottle, this electric fragrance will warm you up.
7
Best Crisp Summer Perfume
Aqua Universalis Cologne Forte Eau De Parfum
MAISON FRANCIS KURKDJIAN PARIS
nordstrom.com
$135.00
Imagine a crisp linen shirt in a bottle — that's exactly what this fragrance smells like. Notes of soft bergamot and white musk bring instant freshness to this scent.
8
Best Sunny Summer Perfume
Soleil Blanc
TOM FORD
sephora.com
$65.00
Bergamot, pistachio and coconut are the stars of this sun-drenched scent, which is one of Beauty Director April Franzino's summer favorites. "True to the name, this smells like a sunny day on an exotic faraway island," she says. "Bright with a hint of citrus, yet a little warm."
9
Best Woodsy Summer Perfume
Gypsy Water Eau de Parfum
BYREDO
nordstrom.com
$180.00
Unleash your inner adventurer with this sexy, uninhibited scent. Incense and sandalwood blend to make a heady, hypnotic fragrance.
10
Best Late Summer Perfume
Romance Eau De Parfum Spray
Ralph Lauren
ulta.com
$98.00
Inject some romance into your everyday life with this delicate, subdued perfume. Effervescent notes of mandarin, pink pepper and violet leaves envelope you in a sweet, ultra-feminine haze. 
11
Best Botanical Summer Perfume
Eau de Campagne Eau de Toilette
SISLEY PARIS
nordstrom.com
$100.00
There's nothing like the scent of sticky, earthy sweetness from a tangle of tomato vines in a backyard. Lemon and vetiver balance out middle notes of tomato leaves, making this perfume both nostalgic and wearable. 
12
Best Citrus Summer Perfume
Good Energy Eau de Parfum
Eau de Juice
ulta.com
$40.00
This fragrance perfectly captures the feeling of drinking a juice box on a hot summer day. Top notes of mandarin and passionfruit make this citrusy perfume pop.
13
Best Vacation Summer Perfume
Mediterranean Honeysuckle Eau de Parfum
AERIN
nordstrom.com
$130.00
Visit the sparkling blue oceans of the Mediterranean with this unique spritz. Sweet honeysuckle and delectable grapefruit make you feel like you're brunching on vacation.
14
Best Pool Day Summer Perfume
Beach Eau de Parfum
BOBBI BROWN
nordstrom.com
$79.00
Jasmine, sea spray and mandarin come together to create the perfect beach day mist. "One of the original beachy fragrances, this has that iconic fresh, sunscreen-like scent that instantly channels summer," says Franzino.
15
Best Coconut Beach Perfume
B.Bungalow Bondi Beach Day Eau de Parfum
B.Bungalow by Beachwaver Co.
ulta.com
$68.00
This scent evokes tropical weather and dazzling white sand. "For a sweeter summer scent, this is the true essence of creamy coconut and vanilla bottled," Franzino says. 
16
Best Zesty Summer Perfume
Tangy Rhubarb Cologne
Jo Malone London
macys.com
$74.00
Sharp rhubarb and orange zest meld together for a fragrance as sweet as homemade jam. "The zesty scent of ripe summer fruit, a spritz instantly uplifts the senses and makes you feel more vibrant," says Franzino.  
17
Best Garden-Inspired Summer Perfume
Un Jardin sur la Lagune Eau de Toilette
HERMÈS
sephora.com
$72.00
Hermès perfumer Christine Nagel modeled this fragrance after an imaginary garden. Woody and floral with salty notes floating in, this scent delivers on its inspiration.
18
Best Soft Summer Perfume
Amazing Grace Eau de Toilette
Philosophy
ulta.com
$52.00
Perfect for sensitive noses or those who prefer a more subtle scent, this floral perfume imparts a whisper of scent. Lily of the valley is blended with fresh citrus and musk for a balanced, delicate fragrance. 
19
Best Unisex Summer Perfume
Wood Sage & Sea Salt Cologne
JO MALONE LONDON
nordstrom.com
$72.00
This elegant, unisex fragrance has just two notes — sage and sea salt. Perfect for anyone looking for a more mysterious, unique scent.
20
Best Floral Summer Perfume
Bloom Eau de Parfum For Her
Smell like a freshly picked bouquet from the farmer's market with this flowery spritz. Rangoon creeper, a flower that changes from white to deep scarlet as it blooms, is blended with jasmine and tuberose for a scent bursting with blooms.
21
Best Airy Summer Perfume
Do Son Eau de Toilette
DIPTYQUE
nordstrom.com
$98.00
Diptyque founder Yves Coueslant modeled this scent after Do Son Bay in Vietnam, where he spent his childhood years. The resulting fragrance is light and airy, laced with tuberose, orange blossom, jasmine and marine accord, which gives it an oceanic, salty effect.  
22
Best Fresh Summer Perfume
Gingham Eau de Parfum
Bath & Body Works
bathandbodyworks.com
$49.50
If you could bottle a summer picnic in the park, it would smell like this perfume. Anyone looking for a fresh, crisp scent will instantly fall in love with the notes of blue freesia, citrus and violet petals. 
23
Best Sensual Summer Perfume
Santal 33 Eau de Parfum
LE LABO
nordstrom.com
$80.00
Chances are, you'll catch a whiff of this iconic scent on the corner of every New York City sidewalk (at this point, it's the unofficial scent of the city), but cedar, leather and sandalwood transport you to a roaring bonfire.
24
Best Salty Summer Perfume
SALT Eau de Parfum
Ellis Brooklyn
sephora.com
$30.00
If your idea of a perfect summer day is sprawling across a sandy towel on a sun-soaked beach, this is the perfect summer perfume for you. Ylang ylang, white florals and grey amber blend together in an ocean-blue bottle.
25
Best Sophisticated Summer Perfume
ARMANI My Way Eau de Parfum
Sophisticated, sweet and an instant classic, this scent is like swiping on your favorite red lipstick. Notes of orange blossom, tuberose, jasmine, cedar and vanilla evoke memories of late night laughter. 
This content is created and maintained by a third party, and imported onto this page to help users provide their email addresses. You may be able to find more information about this and similar content at piano.io
Advertisement – Continue Reading Below