How To Apply Hair Perfume, Plus The Best Picks
5 min read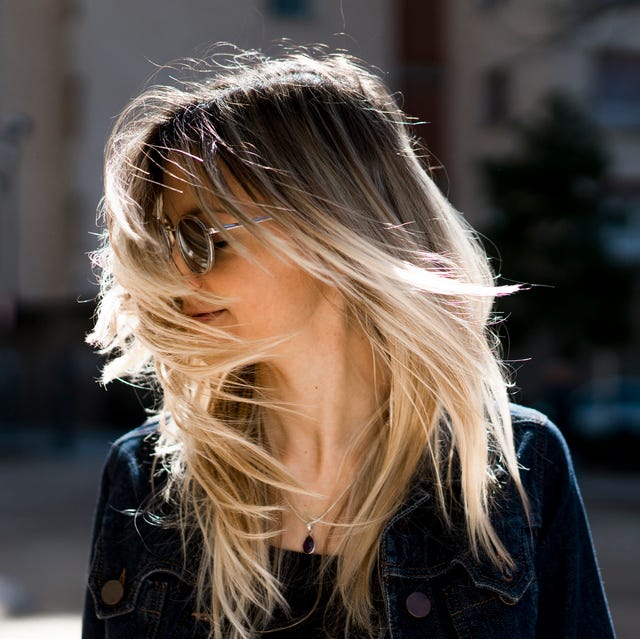 Westend61
Whether you're the signature scent type or love to rotate your fragrance wardrobe, chances are you want your perfume to stick around. That could mean spritzing your clothes and hair—but not so fast. "Normal perfume is alcohol based and can be extremely drying and damaging to hair," explains celebrity hairstylist Bryce Scarlett. "Most perfumes are made with harsh alcohols that dry out your hair and untreated dryness can cause long-term damage."
That's where hair perfumes come in. "A fragrance designed for your hair has specific ingredients that will not cause damage," Scarlett says. Some are even formulated with hair-boosting ingredients to deliver silkier, shinier strands. "Developing a product with enriching ingredients was really important for me," says Mona Kattan, co-founder of Huda Beauty and Kayali Fragrances. "For Déjà Vu White Flower | 57 Hair Mist, we incorporated castor oil, camellia oil, panthenol, and aloe vera to help condition the hair over time."
Another perk of hair perfumes is they can be used to freshen up your strands on days when you skip shampoo. "It's the best way to freshen up at any time, especially between washes," Kattan says. "The great thing is that it doesn't add weight or a ton of product to your hair like dry shampoos can, so it helps to prolong having to wash your hair while still offering conditioning agents." Hair perfumes can also be misted on after dry shampoo, suggests Scarlett.
If you really want to take your scent up a notch, you can layer your favorite perfume with the same scent in a hair perfume. Or, you can opt to wear a hair perfume solo for a lighter touch. "Our Déjà Vu White Flower | 57 Hair Mist has as a lighter concentration of oils than of the original Déjà Vu White Flower and can act as your daily perfume if you want a softer version of the original," Kattan says.
The best way to apply hair perfume is to spritz it on uniformly. "You don't want to spray it too directly in any one spot," Scarlett says. "I like to flip the hair over and mist it from at least a foot away so that it evenly distributes." Depending on the intensity you want, you can spray a lot or a little. "For example, if you're going to a party and will be greeting many people, you may want to spray more," Kattan says. "Hair mist is formulated lighter than perfume so it's difficult to go overboard."
Start spritzing with these best hair perfumes.
Advertisement – Continue Reading Below
1
Moroccanoil Hair & Body Fragrance Mist
Moroccanoil
sephora.com
$18.00
"I love the fresh sophisticated scent; it instantly makes me think of warm summer nights," says Scarlett, who works with the brand, of the signature Moroccanoil scent, a blend of amber, magnolia, and woody notes. "Brumes du Maroc features argan oil and vitamin E to hydrate and nourish, and is formulated in a lightweight, ultra-fine mist that won't damage your hair or disrupt your hairstyle."
2
Kayali Déjà Vu White Flower | 57 Hair Mist
HUDA BEAUTY
sephora.com
$40.00
Formulated with conditioning ingredients and 100% alcohol free, the blend of warm florals features notes of gardenia, pear, and white nectarine. "When I researched hair mist I noticed there weren't many on the market so I decided to create one with, in my opinion, our most versatile and classic scent," Kattan says. "Déjà Vu White Flower | 57 Hair Mist can be a great softer alternative to perfume, a great intro to a fragrance, and a cost-effective way to try something new."
3
Byredo Mojave Ghost Hair Perfume
BYREDO
nordstrom.com
$75.00
Fans of Byredo's Mojave Ghost fragrance will want to nab it in hair perfume format. Inspired by the wilderness of the Mojave desert, the woody hair perfume features the same top notes of ambrette and Jamaican nesberry; middle notes of violet, sandalwood, and magnolia; and a base of chantilly musk, crisp amber, and cedarwood.
4
Sol de Janeiro Brazilian Crush Cheirosa '40 Bom Dia Hair & Body Fragrance Mist
Sol de Janeiro
sephora.com
$19.00
Quite the twofer, this can be spritzed all over your hair and body. The warm floral is one of Sol de Janeiro's signature scents. The combination of black amber plum, vanilla woods, and jasmine blooms will transport you straight to Brazil.
5
Gisou Honey Infused Hair Perfume
Your hair will smell as good as it looks with this nourishing hair perfume. Hero ingredient mirsalehi honey, a natural humectant, delivers Gisou's signature honey-infused scent as well as adds serious shine and hydration to locks. Designed to work for all hair types and textures, it instantly refreshes strands.
6
Dior J'adore Hair Mist
The classic fruity floral perfume comes in hair mist formula to envelop your locks in the beloved scent. The exotic blend of ylang ylang, Damascus rose, Grasse jasmine, and Indian jasmine sambac will give off a delicious warmth from your hair, all while boosting shine, too.
7
Acqua di Parma Peonia Nobile Hair Mist
Acqua di Parma
sephora.com
$76.00
Essentially an explosion of peonies in a bottle, the classic flower is rounded out with raspberry, geranium, amber, and patchouli. The hair mist does double duty to condition hair, leaving locks soft and shiny.
8
Diptyque Eau des Sens Hair Mist
DIPTYQUE
nordstrom.com
$52.00
Diptyque's hair mist does so much more than make your hair smell good. In addition to scenting strands with a bright blend of fresh and spicy notes, it's spiked with camellia oil to strengthen hair.
9
Tocca Cleopatra Hair Fragrance
If anyone knew the power of fragrance, it was Cleopatra. Legend has it the queen of Egypt would scent the sails of her ship to announce her arrival, making her quite the worthy muse. This warm floral fragrance features grapefruit, Egyptian jasmine, and vanilla musk.
10
SACHAJUAN Protective Hair Perfume
SACHAJUAN
amazon.com
$72.00
Safeguard your strands while coating them in a clean and crisp fruity floral scent. This multitasker boosts shine, offers UV protection, hydrates, prevents color fade, and fights frizz and static.
This content is created and maintained by a third party, and imported onto this page to help users provide their email addresses. You may be able to find more information about this and similar content at piano.io
Advertisement – Continue Reading Below