Top 9 + best retail podcasts to help you keep up with trends
6 min read
It's challenging for every professional to keep up with the latest trends, especially if they work in an ever-changing industry like retail. There are thousands of materials, case studies, research papers, books, podcasts, and articles that bombard you with information. How can you select the best and most important one? We will help you!
In this article, we are going to present the best retail podcasts that you should listen to. Each one of these podcasts has something unique to offer and will keep you hooked from the first second 'till the end. 
Podcasts are taking over the Internet
Before we highlight the greatest retail podcasts, we should take a closer look at podcasts in general. This is one of the most appreciated types of content nowadays. Since the early 2000s podcasts have been growing rapidly in popularity. As of 2022, more than 69% of the population has listened to a podcast. 
There are over 383 million podcast listeners globally and over 2.4 million podcasts. It seems that people really appreciate podcasts and they have a lot of reasons to do so. Podcasts can be listened to while working, driving, or exercising. Plus, it's easier to remember information if you listen to it instead of reading it. 
Top 10 retail podcasts to listen to
1. Retail Gets Real
Website / Apple Podcasts / Spotify

This is one of the most insightful podcasts that focuses on the retail industry. From in-store to eCommerce, from small stores to huge retail chains, this podcast talks about them all. Retail Gets Real is created by the National Federation of Retail and in each episode, you can learn more about the most important trends, customer demands, and new retail tech. 
The first episode aired in 2017. Since then, NRF produced over 280 episodes that are under 30 minutes long and filled with actionable insights from top retail experts. 
2. Remarkable Retail
Website / Apple Podcasts / Spotify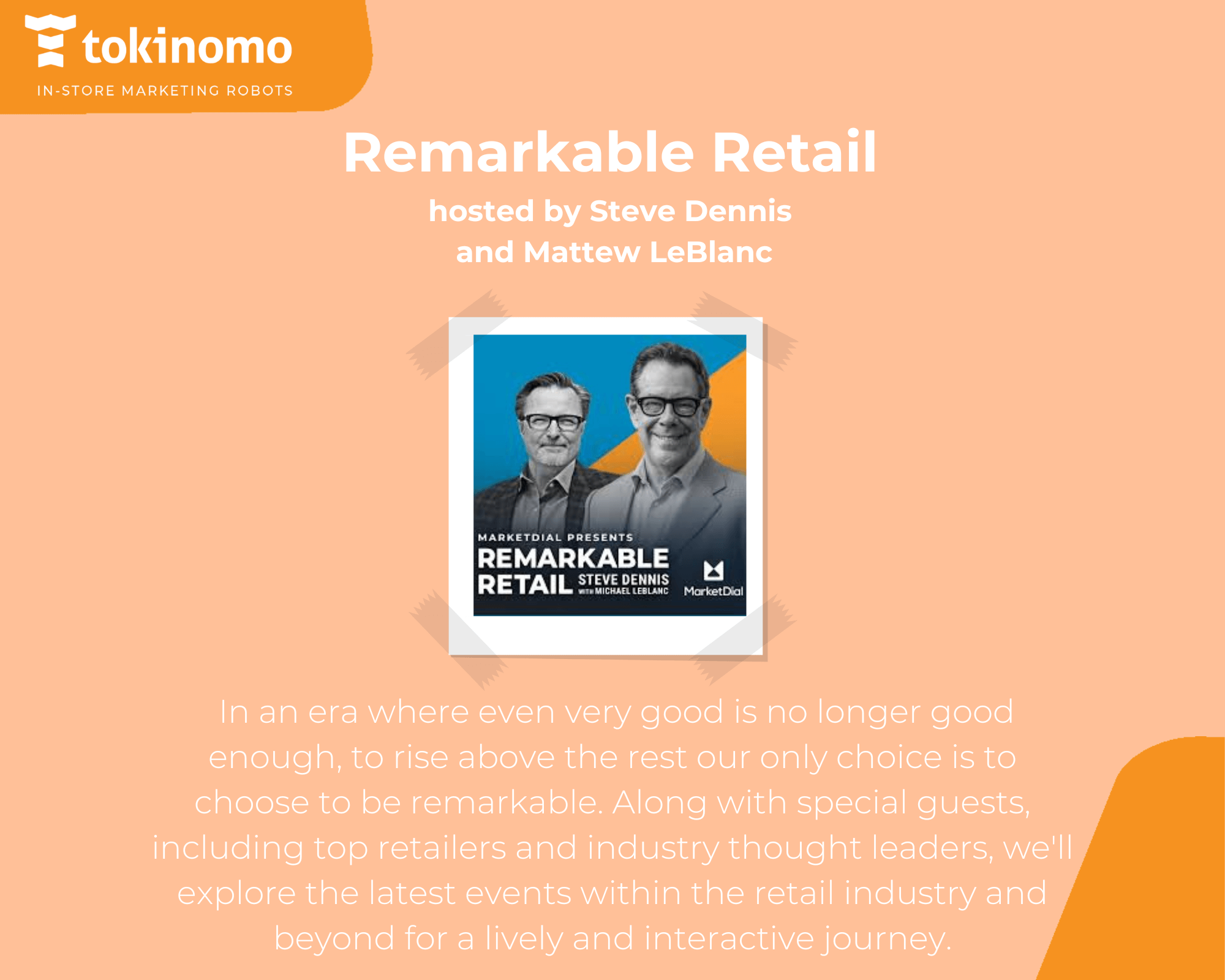 Every store or brand wants the same thing: to be remarkable. In the podcast, Remarkable Retail Steve Dennis and Michael LeBlanc talk to retail experts, CEOs, and retail professionals about the latest trends, the most important news, and strategies to improve your retail business. 
Named after Steve Dennis's bestselling book, this podcast shows you how to create a better experience for your customers. Now, the podcast has over 90 45-minute episodes that are available on multiple platforms. 
"What we aim to do on the podcast is advance the idea that brands face a fundamental choice between being remarkable or becoming irrelevant. And through our own experiences and those of our guests we look to give our audience the ideas, concepts, and tools to make critical change happen."

Steve Dennis, Bestselling Author and Podcast Host at Remarkable Retail Podcast
3. The Jason & Scot Show
Website / Apple Podcasts / Spotify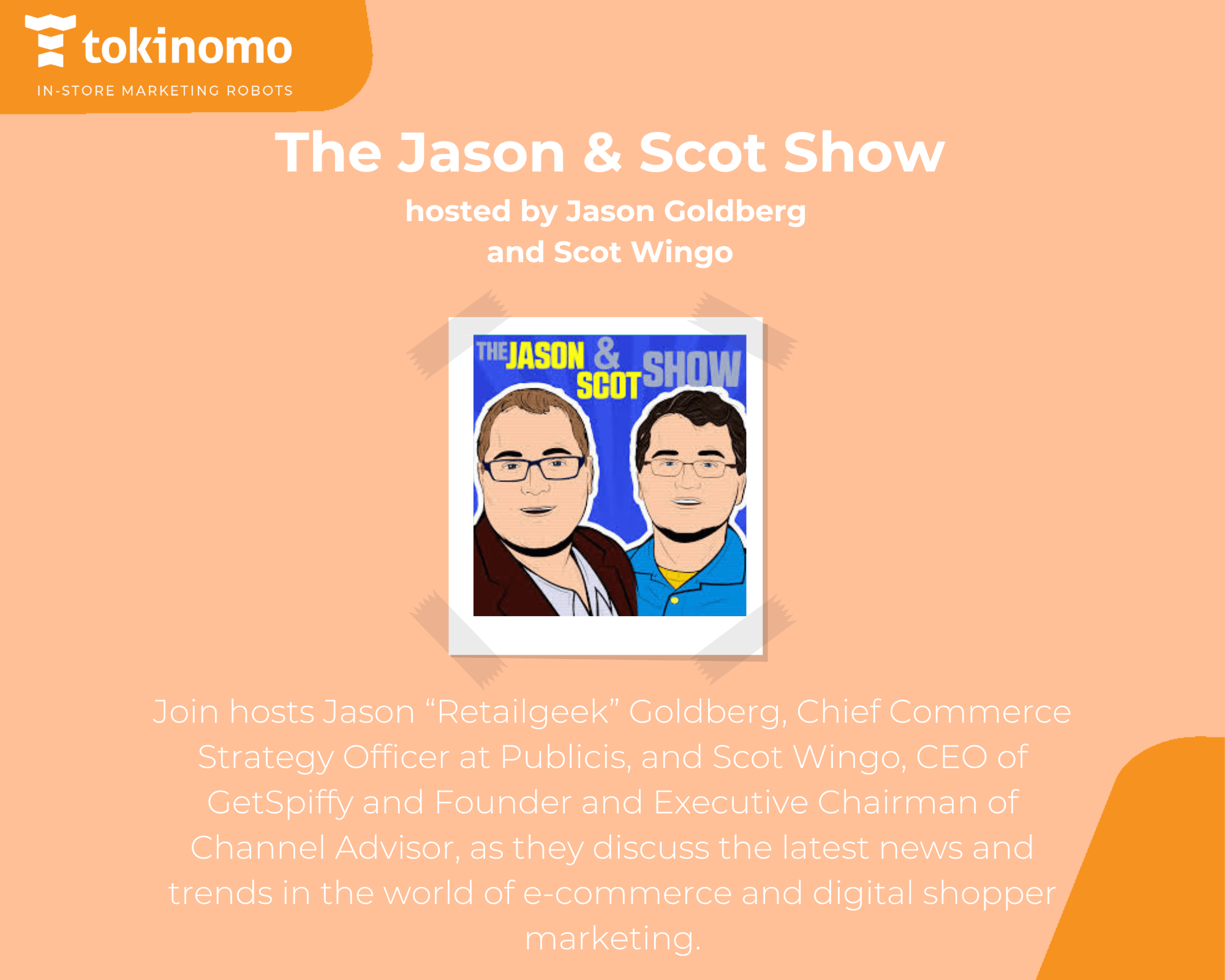 If you want to find out about the latest trends in e-Commerce from two fun and charismatic experts, then this is the podcast for you. The Jason & Scot Show is one of the most popular and praised podcasts in the industry. 
Hosted by two industry veterans, Jason "Retailgeek" Goldberg and Scot Wingo, this podcast is a breath of fresh air. Every week, you get a new  50-minute episode of the Jason & Scot Show. Plus, at the beginning of the year, you can listen to the "Predictions" episode where the hosts make predictions for the year and discuss the prediction they made for last year. 
4. Modern Retail Podcast
Website / Apple Podcasts / Spotify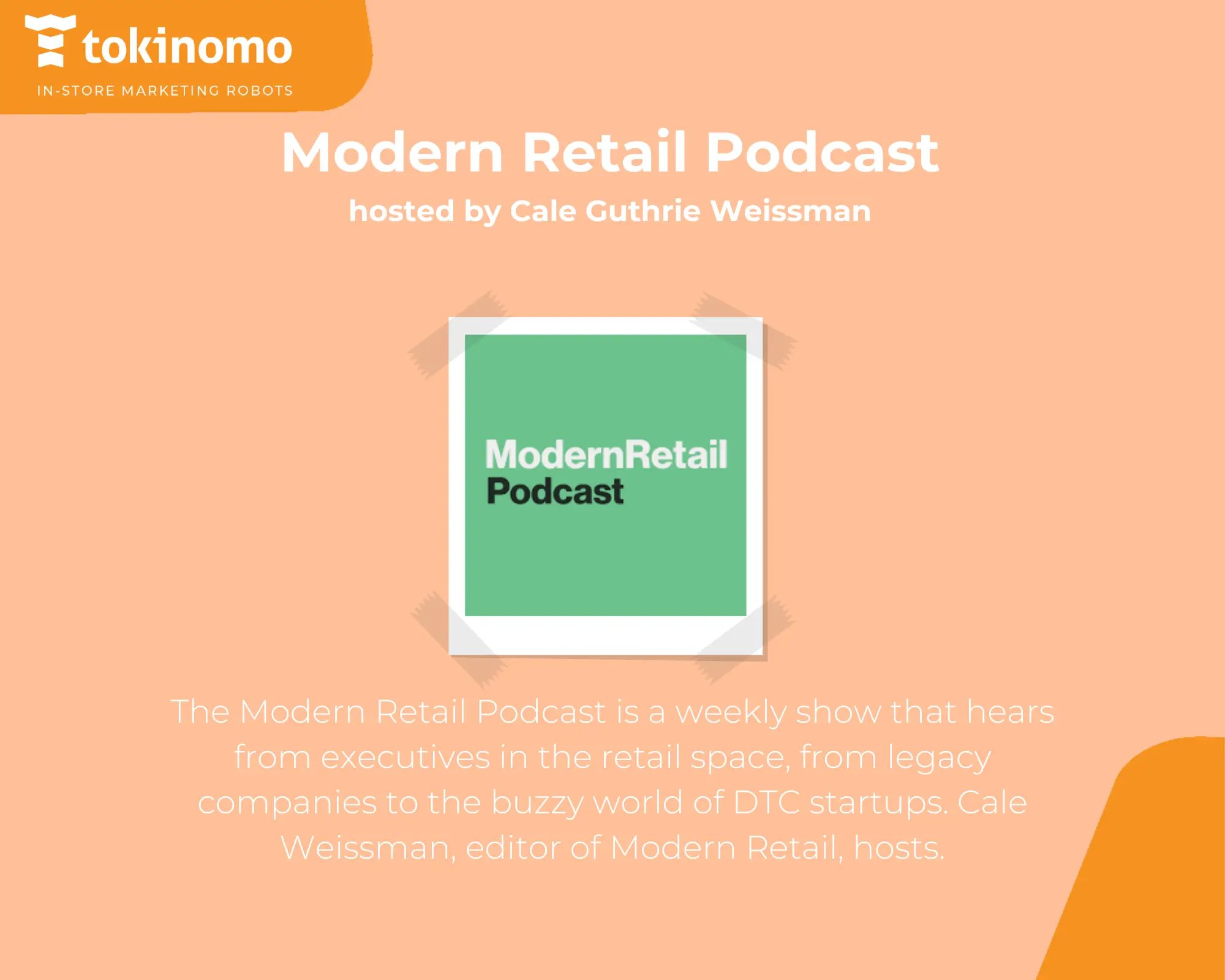 Another great podcast to listen to is the one from Modern Retail. This podcast was created back in 2019 and it's hosted by Cale Guthrie Weissman, Modern Retail's editor. Modern Retail's podcast has three main focus topics which are the DTC era, Retail Revolution, and e-Commerce. 
Learn from entrepreneurs and their journeys on how to create a better experience for customers and how to revolutionize the retail industry. Modern Retail podcasts bring 30-40 minutes episodes every week. 
5. Tell me Something Good about Retail
Website / Apple Podcasts / Spotify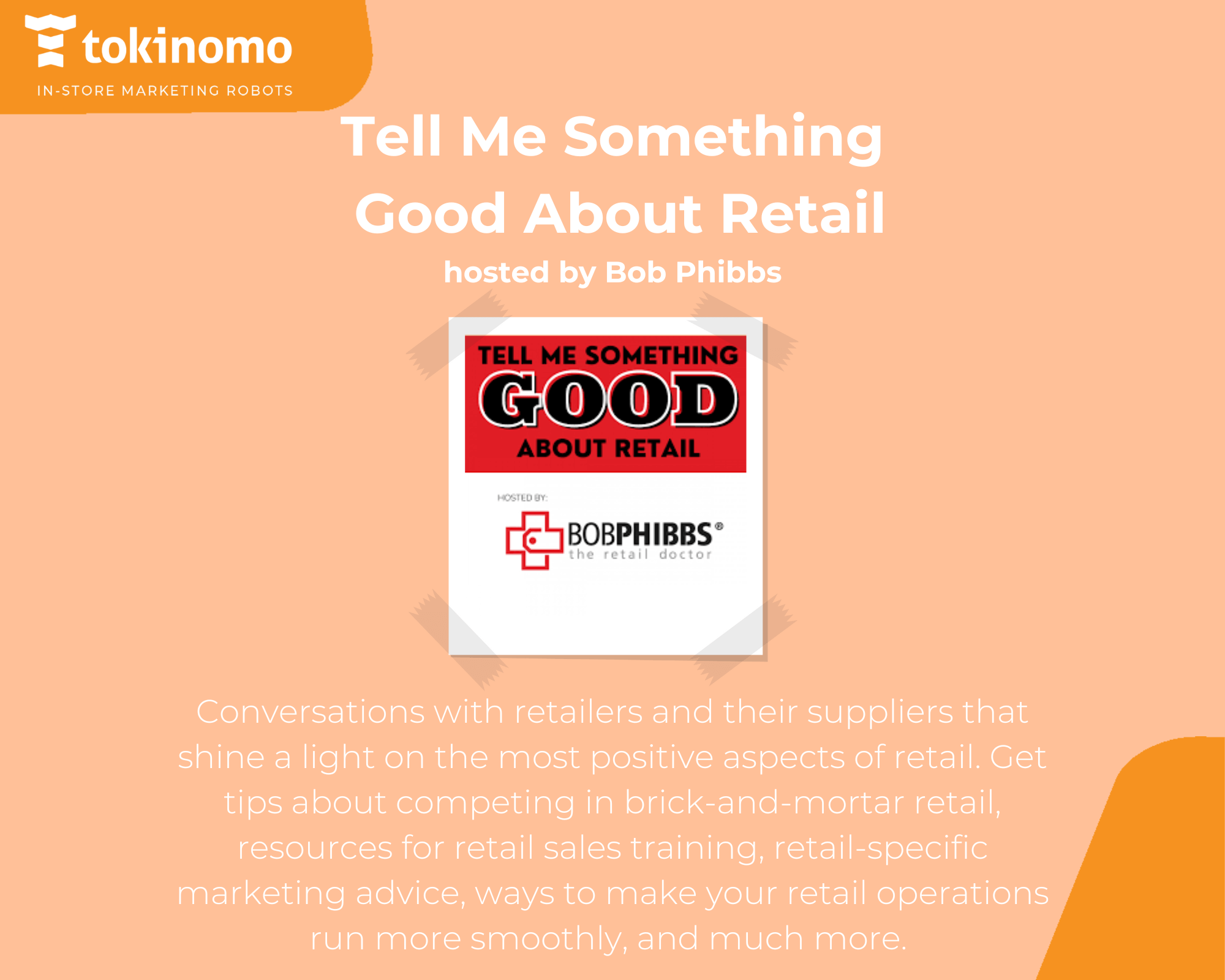 We have to focus on the positive, right? This is what Bob Phibbs, the Retail Doctor thinks, and that is why he created the podcast called Tell me Something Good About Retail. In this insightful podcast, Bob Phibbs talks to retailers and suppliers about the positive aspects of retail. 
Also, from this podcast, you can get the best tips on brick-and-mortar retail as well as retail marketing advice. This is a weekly podcast with episodes ranging from 20 to 50 minutes.
"TMSGAR is a podcast about what is good and happening now in brick-and-mortar retailing. It isn't a vehicle for the latest metaverse PR, drones, or AI. It is a showcase for the people working to create exceptional experiences for shoppers in stores."

Bob Phibbs – The Retail Doctor, Podcast Host at Tell Me Something Good About Retail
6. Spieckerman Speaks Retail
Website / Apple Podcasts / Spotify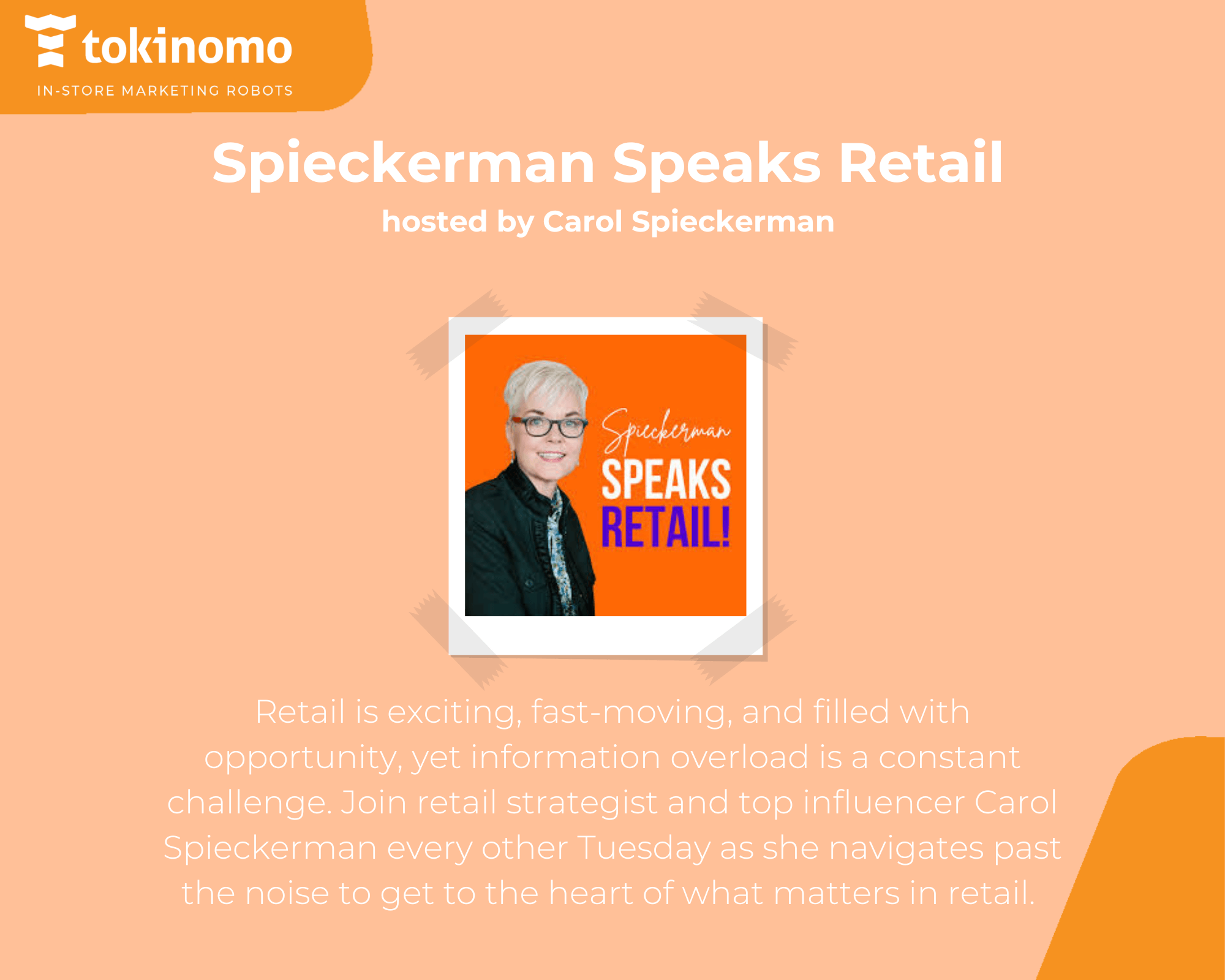 Another well-known retail influencer has a great podcast that you should give a listen to. Carol Spieckerman focused on what truly matters in the retail industry in her popular podcast. Apart from having various retail professionals as guest speakers, Carol also records solo episodes where she sheds light on some of the hottest topics. 
Every other Thursday, you can listen to the Spieckerman Speaks Retail podcast to find out where retail is going next. The episodes have around 20 minutes which makes it easier for retail professionals to listen to them considering their busy schedules. 
7. The Retail Exchange
Website / Apple Podcasts / Spotify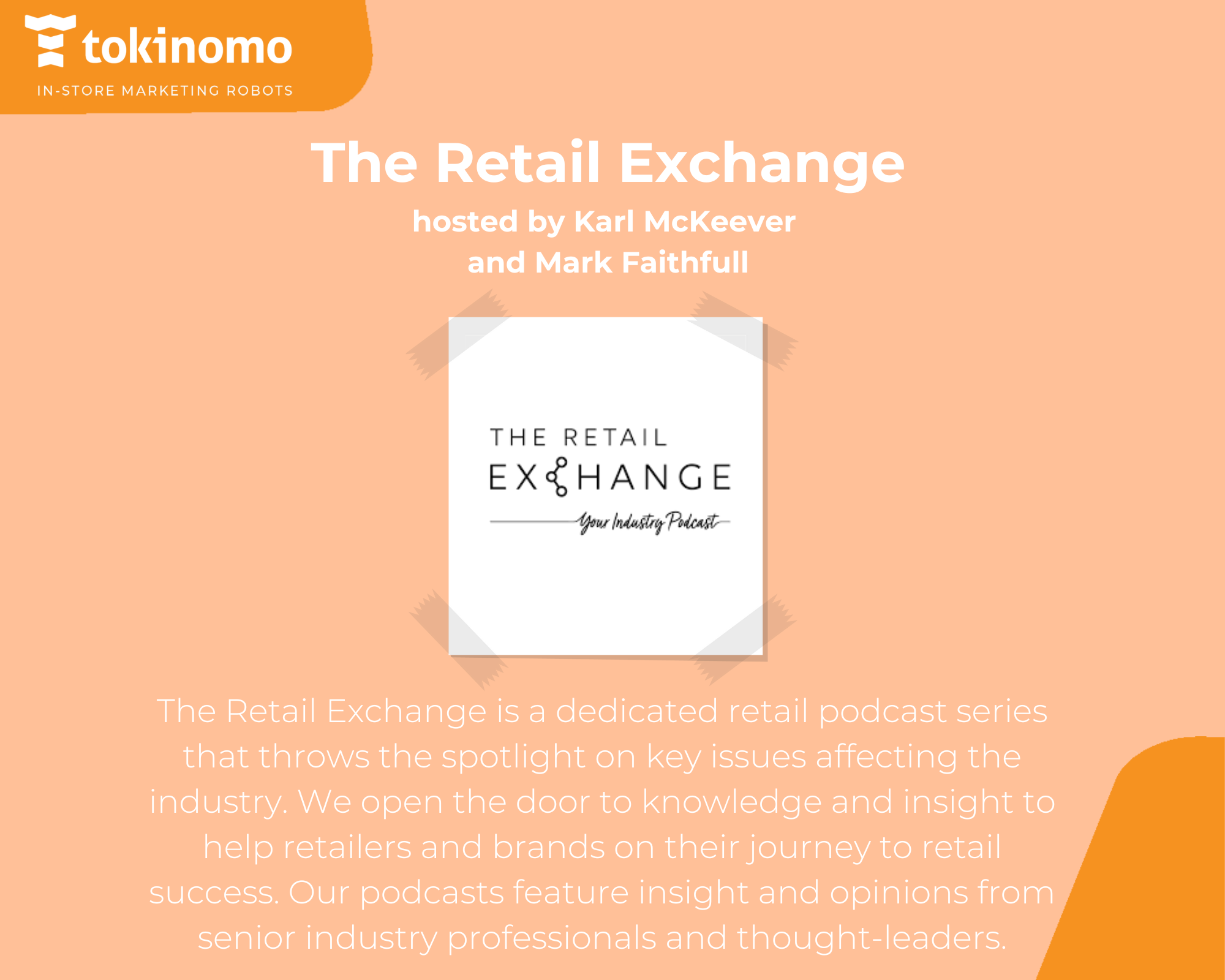 This retail podcast comes in an interesting format. Instead of making a single series of episodes, the Retail Exchange had 3 series: The Special, The Interview, and In Focus. In the Interview episodes, you will be able to hear actionable interviews with thought leaders, entrepreneurs, and retail experts. 
The Special focuses on reports, case studies, and in-depth discussions on various topics. Finally, the In Focus series brings a panel of experts to discuss important topics like Customer Loyalty, Beauty Retail, and Grocery Retail. The episodes range from 20 to 50 minutes and are filled with strategies for retail growth. 
8. Total Retail Talks
Website / Apple Podcasts / Spotify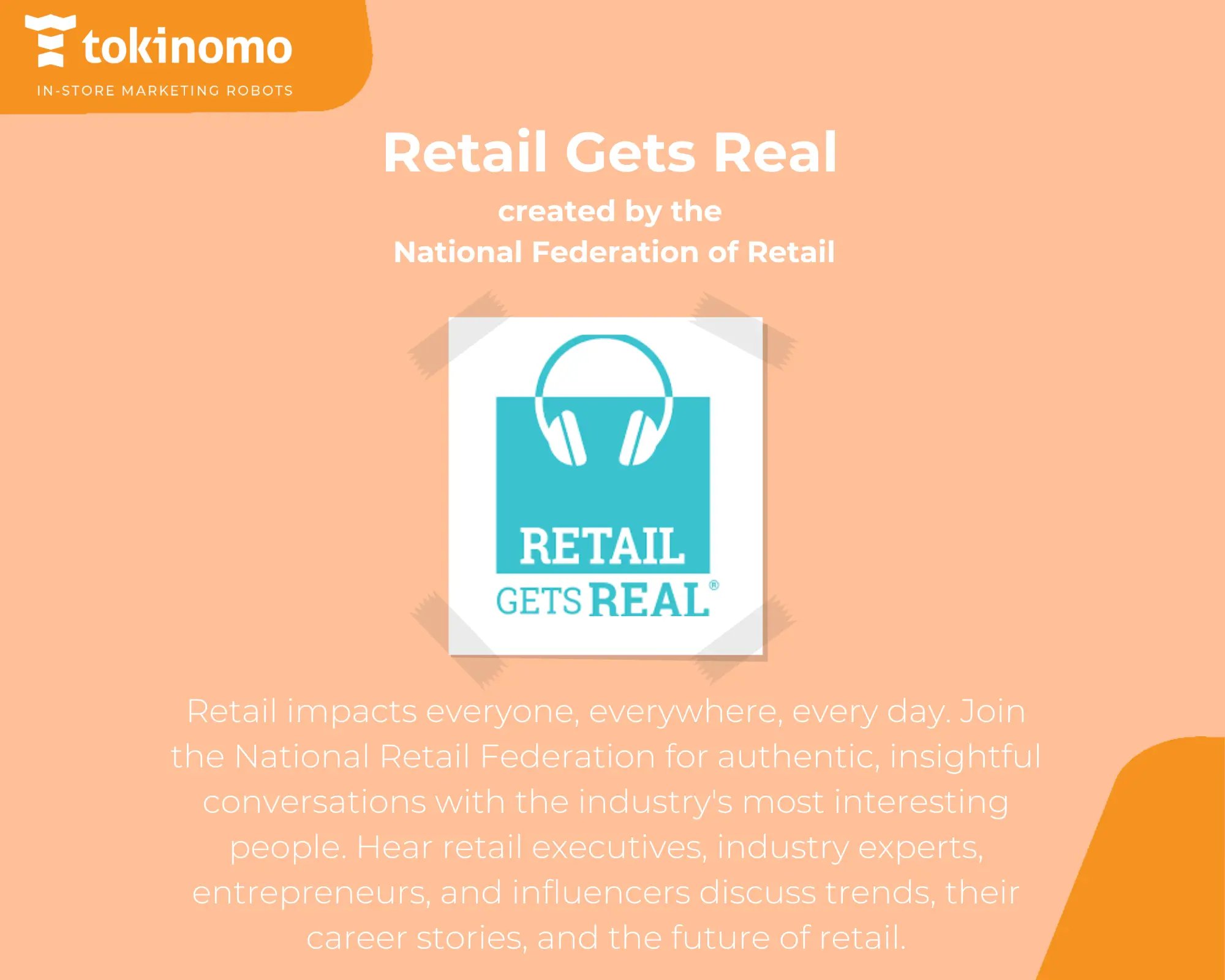 Total Retail Talks is another great podcast that you should listen to. This podcast is hosted by My Total Retail's Editor-in-Chief Joe Keenan and has over 360 episodes. In this podcast, you will hear advice from top retailers, brand managers, CEOs, and retail experts. 
Total Retail Talks focuses on how to stay successful in this fast-paced industry. You can learn anything from retail marketing to supply chain management from the guest speakers. Plus, most episodes have under 20 minutes, making them easy to listen to. 
9. The Retailistic Podcast
Website / Apple Podcasts / Google Podcasts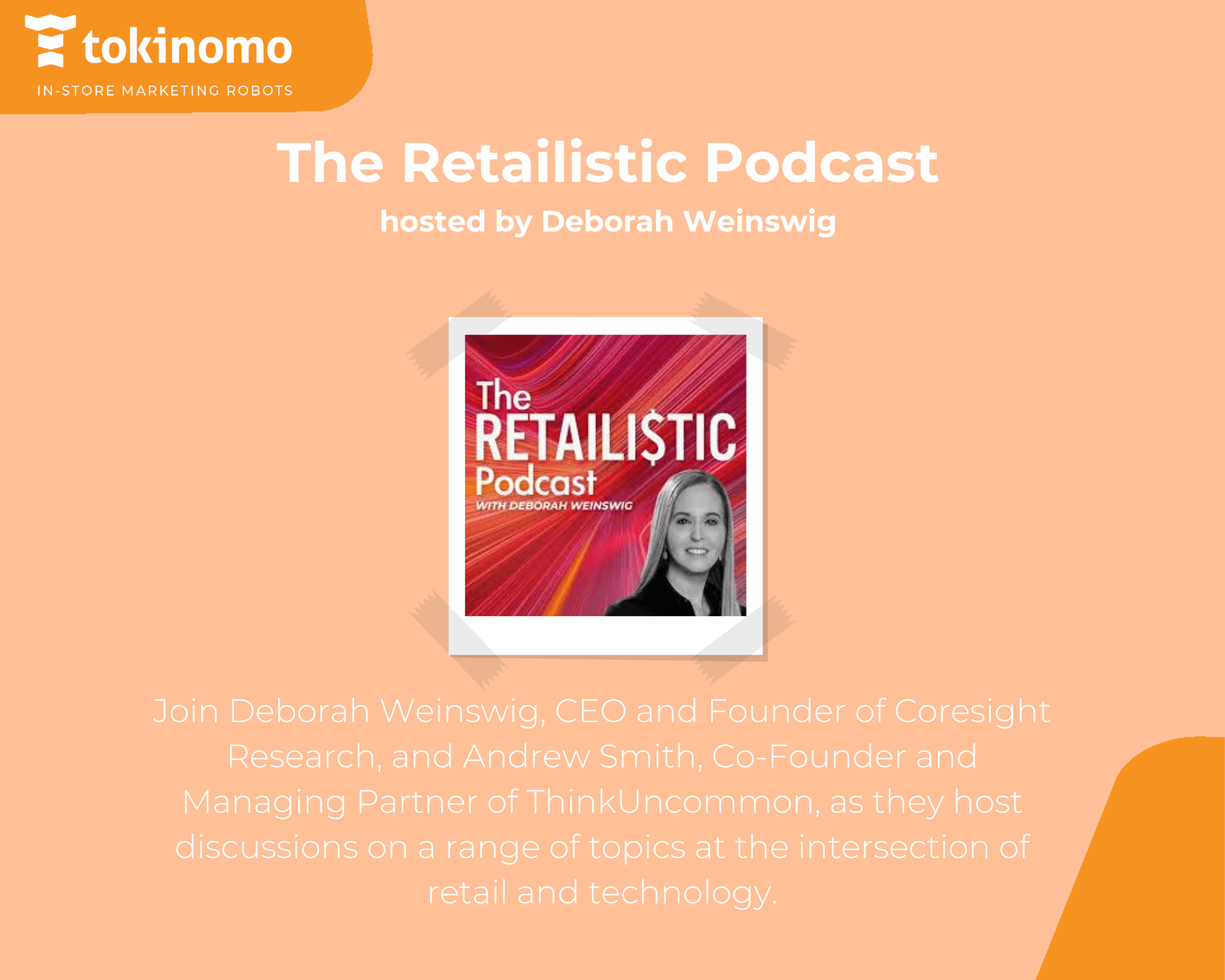 What goes hand in hand? Retail and Technology. In this podcast hosted by Deborah Weinswig of Coresight Research, you will learn more about the intersection of retail and tech. With just 40 episodes so far, Retailistic brings great topics to the table and debates them with entrepreneurs and retail professionals. 
The episodes range from 25 to 50 minutes, depending on the topic and the guests. While there's a focus on technology you will also hear more about hot topics like influencers in retail and CBD products. 
Special Mention: Retail Nightmares
Website / Apple Podcasts / Spotify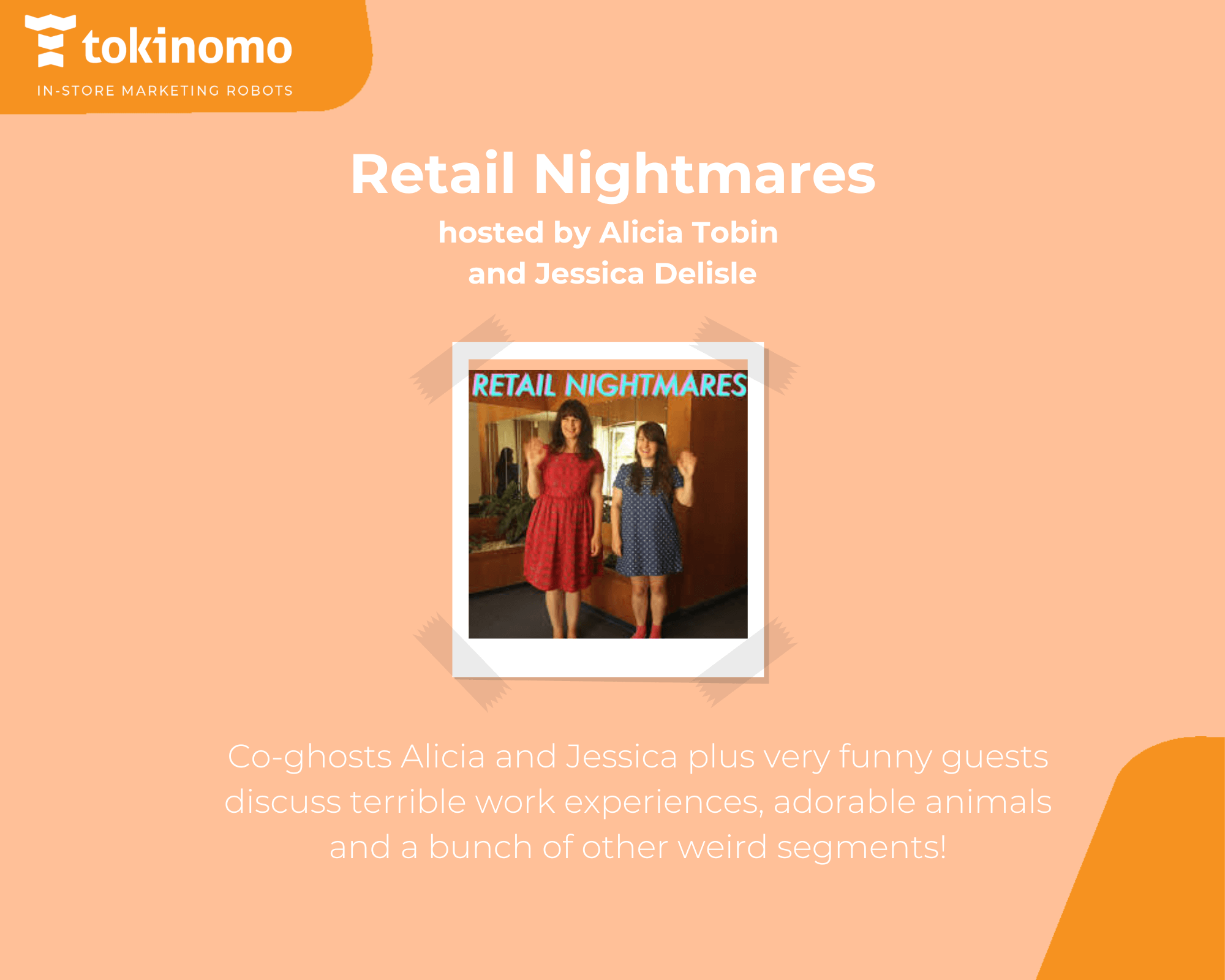 Lastly, this podcast has a completely different approach. Instead of offering actionable interviews, it comes with hilarious retail stories. As you might expect from the name, these stories are not going to show you how to grow your retail business, but they are going to entertain you. 
Hosted by Alicia Tobin and Jessica Delisle, this podcast brings the fun in the retail experience. Laugh at some of the most cringe-worthy retail stories. This podcast has over 1-hour long episodes so there are plenty of giggles in-store. 
Listen to the latest trends
With these podcasts, you can discover the latest retail news and get insights from world-renowned experts. Find the podcast(s) that catch your attention and keep track of the ever-changing trends in retail.